From Harry Styles's lipstick to cut-throat shaves and 'boyzilians', male grooming has taken off big time – even if not all those who do it will admit to it. So who are all these new routines really for?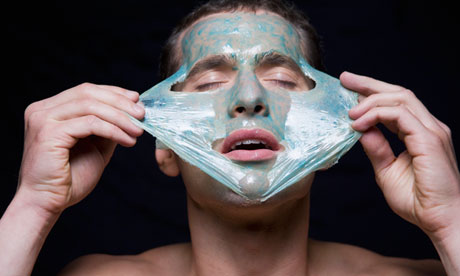 The modern male beauty industry is less about Bowie-esque flamboyance than about using the subtler treatments that millions of women already use on a regular basis. Photograph: Robert Recker/Corbis
It's Thursday evening, and, over a big cup of tea, Andy, 24, is walking me through his
beauty
routine. "Did you know that there are 20 different shapes your eyebrows can be?" he asks me, "so I printed off a guide from the internet and sketched out the shape I wanted before I plucked." As well as eyebrow maintenance, Andy does his nails, removes his chest hair, and indulges in a little bit of "manscaping" ("pubic grooming" to the uninitiated), but what I'm really curious about is Andy's unabashed use of makeup. "I wear concealer and tinted moisturiser," he informs me. "The tinted moisturiser is from Tom Ford and has gold sparkles in it. It makes my whole face shimmer. It makes me look like a God."
You'd be forgiven for thinking that men and makeup only come together in the rarified worlds of 1970s glam rock, 1990s game shows, or noughties emo-kid culture. In fact, golden sparkles aside, the modern male beauty industry is less about imitating Bowie-esque flamboyance or experimenting with gothic guyliner, and more about using the subtler products and treatments that millions of women use on a regular basis. Man makeup is increasingly popular. Celebrities such as Johnny Depp and Bradley Cooper have been photographed sporting more than a little bit of slap. Even heartthrob
Harry Styles
, of One Direction fame, is alleged to have worn lipstick to the band's film premiere.
The trend is not reserved to celebrities, however. Debenhams reported that this year men spent 24% more on grooming products than in the same period last year, and the male UK skincare market is worth an estimated £600m. This month, high-profile
fashion
designers Tom Ford and Marc Jacobs are launching new male cosmetics ranges, and industry insiders are predicting that interest will continue to build. It's not the first time man makeup manufacturers have tried to go mainstream. In 2008, Superdrug launched its Taxi Man range to great fanfare, but perhaps the world was not ready, as the range has since been withdrawn. Nowadays, however, half of men aged 18-55 are reportedly happy to describe themselves as "metrosexual".
Though the wearing of makeup and the use of grooming treatments by men has been accepted in the gay community for some time now – Andy says that he regards it as strictly for going-out purposes, and would never dare to wear foundation to the office – the figures suggest that straight British men are, for the first time, starting to take a genuine interest in the business of grooming.