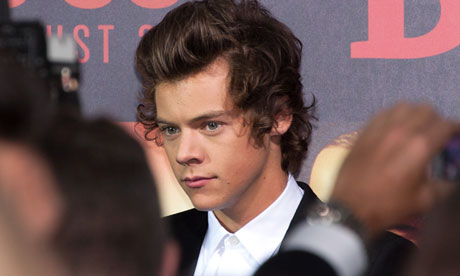 Harry Styles of One Direction, who was said to have worn lipstick to his band's
recent film premiere.
Photograph: D Dipasupil/FilmMagic
"I don't think there is or was a 'boom' as such," says Jessica Punter, styling and grooming editor of GQ, "but this side of the industry has gone from infancy to a fully fledged market in a relatively short space of time. When I began covering grooming in 2006, we were still at the stage of trying to convince men to even moisturise – let alone pay for facials or manicures."
The manicures, shaves and spa treatments that for generations have been a part of barbershop culture, particularly in the Middle East, are attracting new British customers. City streets are teeming with barbershops and nail bars seemingly unaffected by the recession. The barber shop revival has perhaps been helped by the hipster fixation with the male moustache, and trendier places such as
Murdoch London
, which offers luxury facials, manicures, cut-throat shaves and shoe-shining, are cropping up, but the more traditional shops (where they'll use a flame to remove your ear hair whether you ask them to or not) are also doing well.
Jim Hussain has run the Gentleman's Hairdressing Salon on the Caledonian Road in north London for 55 years, and business is booming. "It used to be that the barber down the road would send guys who wanted a shave up to see me," he says, "but now they're offering them as well." The increase in popularity means that some barbers have upped their prices. "Men used to go for a shave twice a week, but my cousin had one in Camden the other day that cost £30. Who can afford that? Nobody," he says. Jim offers a traditional cut-throat shave for £10.
Below-neck hair removal is also becoming more popular, with places such as the Soho Salon offering a range of waxing treatments including the "boyzilian" – the male brazilian wax. Andy balks at the idea, declaring the all-off look as "not very manly", and is even more sceptical of shaving, saying that "there is just far too much to nick down there". However, according to a poll of Britain's beauty professionals, hair removal was the second most popular treatment for men last year after the haircut.