Q6: What's The Best Way To Prevent Razor-Burn?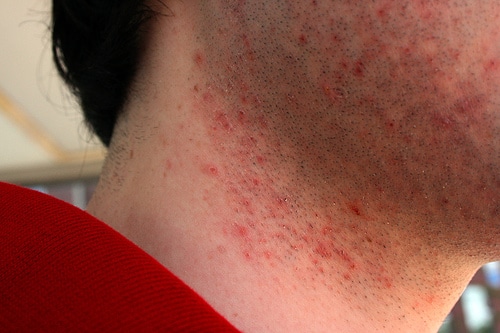 A: Men hate it when I say this but quite often the cause of razor burn isn't the shave products or razor you're using, but your technique.
When shaving we often use long, fast, sweeping stokes, applied with enough pressure to remove several layers of skin and moving against the direction of hair growth. Little wonder, then, that skin sometimes sees red.
To reduce the risk of razor burn, always shave in the direction of hair growth (paying particular attention to the neck where it often grows in different directions); use short, 2cm long stokes; avoid going over the same area twice (if possible); and never press too hard.
Q7: What's A Serum & Do I Need One?
A: I've been asked this question a lot lately, presumably because many brands – from Tom Ford and Murad to Lab Series and Anthony Logistics – now include one in their skin care range.
In the war against problematic skin, serums are your smart bombs: designed to deliver concentrated, targeted doses of skin-saving vitamins, antioxidants or other useful ingredients deep into the skin. These days, you can get ones that deal with everything from blemish-prone skin to reducing redness or minimising wrinkles.
The trick with serums is to use them sparingly (most men use way too much) and apply them after washing but before you apply your regular moisturiser.
Do you need one? Well, that's a bit like asking whether you really need that new deluxe Queen/U2/Johnny Cash boxed set: you don't but it's still nice to have, and if you can afford one then why not?